LIMA – AREQUIPA
Private Transportation
RATES 2023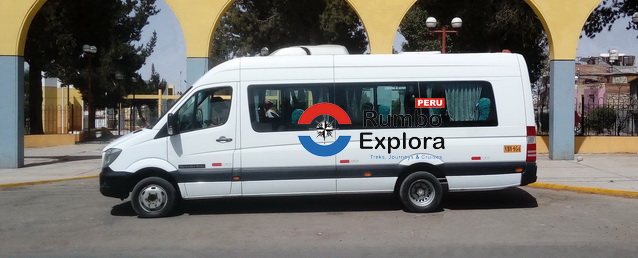 PRIVATE SERVICES
---
RUMBO EXPLORA have carefully selected the best transport options, from Lima – Arequipa, all year around. RUMBO EXPLORA offer you the possibility to make your transport reservation, due that not all transport companies have an automatic booking system. We will confirm your reservation within 24 hours.
03DAYS LIMA – AREQUIPA
Private Transportation

ORIGIN / DESTIN.
RATES
APPLY
TRANSPORT / SPECIFICATIONS
Lima / Arequipa

1,010km

US$1,250.00

01 – 04 people

Minivan (Hyundai – H1) N° of Seats: 05 + luggage space
Lima / Arequipa

1,010km

US$1,380.00

05 – 08 people

Sprinter (Mercedes Benz) N° of Seats: 10 + luggage space
Lima / Arequipa

1,010km

US$1,600.00

09 – 13 people

Large Sprinter (Mercedes Benz) N° of Seats: 15 + luggage space
Lima / Arequipa

1,010km

US$3,050.00
US$3,200.00

14-19 people




20-25 people

Minibus Irizar (Mercedes Benz) N° of Seats: 25 + luggage space
Lima / Arequipa

1,010km

US$4,450.00
US$4,750.00

25-30 people




31-42 people

Bus Irizar (Mercedes Benz) N° of Seats: 42 + luggage space
LIMA – AREQUIPA
Private Transportation
DESCRIPTION OF ITINERARY:
DAY 01: LIMA – AREQUIPA: A driver will pick you up from your hotel in Lima (Peru) to take to Arequipa. On the way we will pass the local towns of Pucusana, Asia, Cañete, Chincha, Pisco, Ica, Palpa, Nazca, Chala, Atico, Ocoña, Camana, Majes, La Joya. Lima: Peru's capital is located at an altitud of 154 m on the shores of Pacific Ocean, with over 10 million inhabitants, founded in 1535 under the name City of the Kings on Curaca Taulichusco territories, agricultural area known by the natives as Limaq. Here were developed several pre-Columbian cultures dating back thousands of years old such as Maranga and Lima, building sanctuaries, then the Empire Wari conquered this area, and later the Chancas took the coast of Lima, finally these territories were incorporated to the Inca Empire. Lima was the capital of the Viceroyalty of Nueva Castilla of the Spanish Empire and the biggest and most important city in South America during the Spanish regime, after the independence Lima became the capital of the republic to the present. Paracas: It is small town located near the pacific ocean, 22km from Pisco village, 75km from Ica city and 258 from Lima city. Paracas is the starting point to visit Ballestas Islands where is located the Candelabro (the chandelier) a giant sand image on the slope of a hill. On the Ballestas Islands there are different species such as sea lions, seals, penguins, flamingos, pelicans and seabirds. Near the tomw is located The National reserve of Paracas, the museum on site and the cathedral (cliff) with its rock formations. On this area there are condors flying on shores of the sea. Nasca: Located south of Lima, 06 hours drive. Here is located the ancient pre-Inca drew huge figures of animals and plants for a purpose not yet discovered, many people believe that these figures were made by aliens, among which are the monkey, the spider and the hummingbird, also the pre-incan cemetery of Chauchillas. Arequipa: It is a beautiful city that was founded by the Spanish in 1540 in a place specially chosen for their natural beauty and warm climate. This beautiful city is located at 2400 meters above sea level and the Misti volcano over 5822 meters high. Arequipa known as the White City because most of its houses and buildings are constructed of white ashlar stone and dating from the colonial era surrounded by stunning natural landscapes.

---

WHAT IS INCLUDED: Private transportation Lima – Paracas – Nasca – Arequipa, including stops at Asia village & vineyard cellar (breakfast or lunch), besides pre-trip information + organization and all local sales taxes. There are no hidden extras in our prices.
NOT INCLUDED: Lunch, dinner, entrace tickets, accommodation, extras, tips.

IMPORTANT: Our tourist transportation vehicles have nation wide circulation permit and 2 types of insurance (Certificate of Statutory Accident Insurance Transit SOAT, besides has vehicle Insurance Policy to all risks in record) + oxygen & first aid kit + panoramic windows + reclining & confortable seats, exclusive for our demanding customers. Rumbo Explora provide to visitors all possible choices. Beware with some local illegal companies or a middleman that offers to visitors low rates that not guarantee the service & quality offered.
ADDITIONAL INFORMATION

LAND TRANSPORTATION

LAND TRANSPORTATION

Technical specifications: Minivan Hyundai H1 (05 seats) Sprinter Mercedes Benz & Renault (10 to 19 seats), Minibus Mercedes Benz Irizar (25 to 30 seats), Bus Mercedes Benz Irizar (40-44 seats)
Equipped with: Reclining seats, retractile seat belts, air conditioner, heating system, plugs for mobile devices.
First Aid Kit & Oxygen: Oxygen bottle & first aid kit in all our excursions & transfers
Insurance policy: Our vehicles have National permit circulation and (Certificate of obligatory Insurance for accidents of transit SOAT, besides all vehicles have Insurance Policy to all risks in record)
IMPORTANT NOTE:
You can see that in Rumbo Explora we have developed for you tailor-made itineraries with the best price as competitive as possible, providing an excellent service and paying our guides 10% above the legal wage agreed with the tour guides in Peru. Our staff are some of the best paid in Cusco & Machupicchu, Puno & Lake Titicaca, Arequipa & Colca canyon, Lima and Nazca & Paracas, which allows us to attract only the Best Tour Guides, Motor Boats and Land Transportation with national permit, to none other local company, that can only provide a cheaper price by providing a far inferior service and saving on staff costs, ¿How? Hiring tour guides in training without experience and not paying them, besides avoiding taxes to government.
Big Travel companies from Europe, North America, Australia and others work with the Peruvian Tour Operators located in Lima-Peru, who work as middlemen receiving from them good prices from the Tours & Packages, and paying to us 40 to 50% minor the normal price, besides 2 to 3 months delayed, being this the reason that Rumbo Explora have decided to offer tours & packages directly to travelers.